Michael Benjamin, MD
Michael Benjamin, MD – Member of NAF and ACN
Abortion Pill from 3-10 weeks
Procedure Abortion through 15.6 weeks
If over 15.6 weeks, we secure appt and funding for out-state care
Specialize in fetal anomalies and maternal health issues
Enhanced Private Abortion Available
Financial Assistance
Michael Benjamin, MD abortion clinic in Fort Lauderdale, Florida
Florida abortion clinic Michael Benjamin, MD is in a calming and private Gynecology Surgery Center.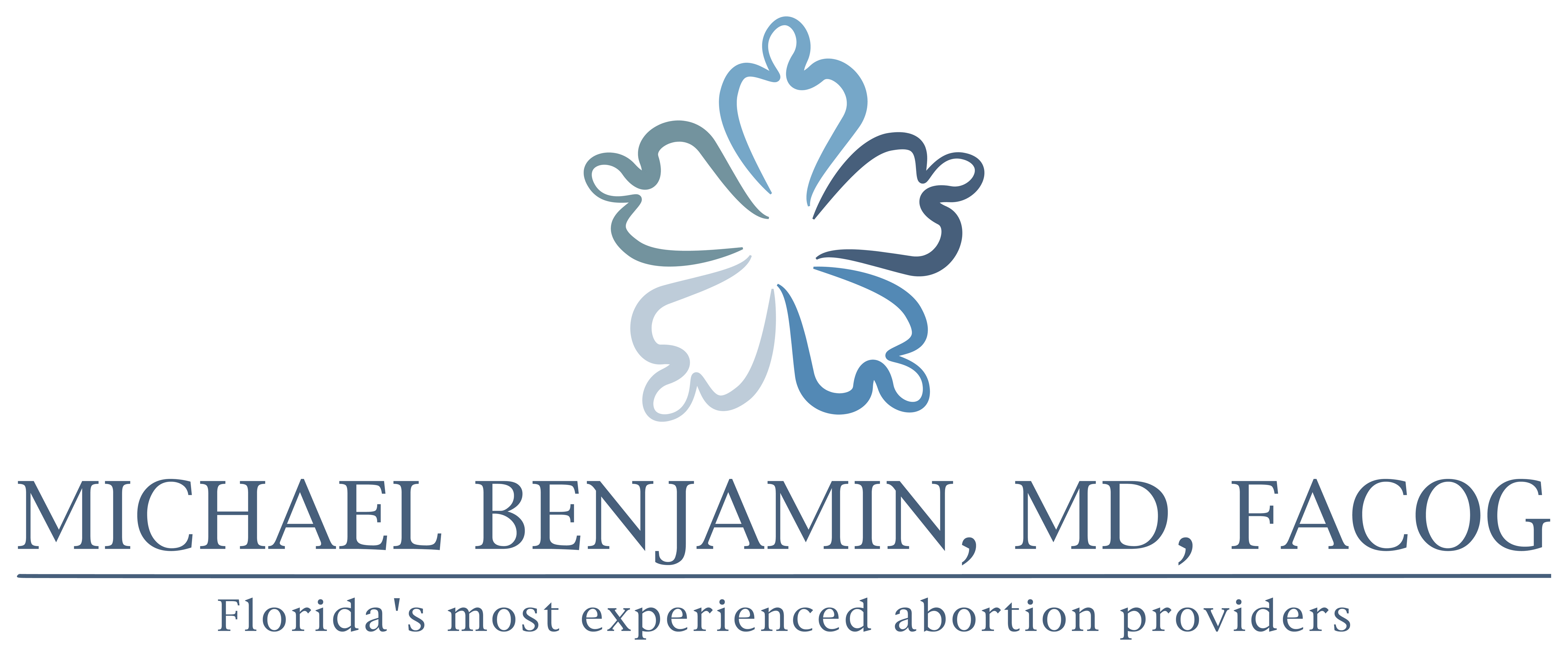 We offer the Abortion Pill and Surgical Abortions from 3 weeks through the 24th week. All appointments are CONFIDENTIAL. However, our Private Patients have special arrangements where their support person(s) can accompany them. We are an abortion provider member of the National Abortion Federation ("NAF") thus we meet all of the guidelines and regulations set by NAF.
Michael Benjamin, MD, FACOG is a private practice gynecologic surgical center and has been in continual practice since 1975.
During this time we have accumulated vast experience in first and second trimester abortion, in-office tubal sterilization, and abortion pill care.
We have also provided our gynecology patients the full spectrum of minor gynecological surgery.
We have state of the art diagnostic and monitoring equipment and are fully equipped to deal with medical contingencies. As a result, we have developed the reputation as the center of last resort for difficult and complicated cases.
In addition to technical expertise, we feel that we have developed a special sensitivity to emotional needs of women contemplating a pregnancy termination.
Most of our patients come from the South Florida area, frequently referred by their gynecologists and/or health insurance plans. We do, however, see patients from throughout the Southeast, Caribbean, and South America. Self-referral constitutes much of our elective practice.
Our patients choosing Private Patient Services will be seen by appointment, with minimal waiting, and have a private, individual Recovery Room. They can have their support person join them both before and after their procedure. Having your family member at your side can be very comforting, and being private greatly expedites your stay. For patients in need of the utmost privacy, please contact our office in advance to arrange for private care. Deluxe concierge services are available with advance arrangements.
Our Staff
Our surgeon Michael Benjamin, M.D. received his medical degree from the State University of New York, Downstate Health Sciences Center in 1967. He served an Internship and Residency training in Obstetrics and Gynecology at the Long Island Jewish Medical Center and Queens Hospital Center from 1967-1971.
Dr. Benjamin also served as an Obstetrician and Gynecologist in the USN from 1971-1973 and was certified by the American Board of Obstetrics and Gynecology in 1973 and re-certified in 1996. He is a fellow of the American College of Obstetrics and Gynecology and several surgical societies. Since 1973 Dr. Benjamin has been in private practice of OB/GYN in the Fort Lauderdale area. Over the course of time he has become increasingly specialized in office gynecologic surgery, and introduced many innovations to the community.
Our Registered Nurse Practitioner has added greatly to our abilities to facilitate visits for routine evaluation. She is readily available for minor problems and generally sees patients for routine post-abortion exams. In addition she is available for women who prefer female practitioners for their gynecologic healthcare.
Our head nurse has had such extensive "hands-on" experience with patients with problem pregnancies that she instinctively responds to their needs, be they medical or emotional.
Our front office staff are very experienced in facilitating scheduling, travel, and insurance. Their physician liaison experience allows for minimal stress during a difficult time.
Our recovery nurses have the experience and compassion that makes for a smooth and uneventful transition to discharge.
Years of working together harmoniously has made for teamwork and consistency which minimizes the risks arising from error.
Our Schedule
We consult with and evaluate patients Monday through Friday. We perform the full range of procedures Mondays through Saturdays. We maintain 24-hour per day, 7 days per week physician coverage. Because time is frequently critical medically, and is always critical emotionally, we strive to maintain the capacity to perform surgery within 24-hours of scheduling, generally the following day.
Professional Standards
We adhere to the standards of care for abortion of the American College of Obstetrics and Gynecology ("ACOG") and the National Abortion Federation ("NAF"). We conform to OSHA standards for infection control and CLIA laboratory standards.
We adhere to and honor the guidelines and rules of our state legislature. Please know that our center will do procedures as allowed by our state.
Our personal standards demand that our services always consider our patient's emotional needs and dignity.
Dr. Benjamin's vast experience enables him to provide safe, in-office, surgical care for patients deemed high risk. He is the premier referral source within the South Florida medical community and is highly respected by his peers. Many physician referrals consist of high risk, complex surgical patients. Some of the medically and surgically high risk indicators include: Diabetes; Fetal Developmental and Chromosomal Abnormalities; Cardiac History; Uterine Fibroids; Anemia; Prior Cesarean Section; Clotting Disorders; Morbid Obesity; Hypertension; Multiple Gestation.
General Abortion Services Information
Abortion can best be defined as the expulsion of the products of conception, i.e. a fetus or embryo with associated placenta and membranes, prior to viability.
Furthermore, there is no uniform agreement as to the point in pregnancy at which a fetus ought to be considered viable or capable of living outside the uterus.
Generally, it is felt to be between 24 and 26 weeks from a standard last menstrual period, even though survival does not become a probability until 28 weeks.
If the products of conception spontaneously expel, as frequently is the case in nature, the process is referred to as a spontaneous abortion. When a pregnancy is surgically removed for the purpose of terminating a pregnancy, the process is known as an induced abortion. Hence, induced abortion is the subject of this discussion.
In most states, including the state of Florida, a qualified physician may electively induce an abortion until viability. Beyond that stage, abortion is generally permitted only for severe fetal abnormality or to preserve the life of the mother. Because most women recognize pregnancy and make their decision for abortion services early, most pregnancy terminations are performed in the first trimester, i.e. at 12 weeks or less of pregnancy.
NOTICE: We offer and recommend IUD (Intrauterine Device/contraception) insertion at the same time as your procedure.
Advantages: You only have one procedure and not two, you will have no pain with the insertion of the IUD, you won't need any additional visits to the office, and you will have immediate protection against pregnancy.
Michael Benjamin, MD is a member of the National Abortion Federation (NAF) and the Abortion Care Network (ACN).
Learn here about Fake Clinics – Crisis Pregnancy Centers 
ABORTION RELATED FEEDS & POSTS