Abortion Funding
Looking for Abortion Funding?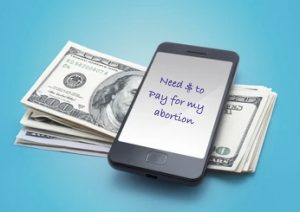 There are 4 primary networks that offer assistance in finding abortion funding to those that cannot afford to get an abortion and/or cannot pay for travel-related expenses to an abortion clinic near them.
Some abortion clinics offer financial assistance over the phone or in-clinic financial assistance available to all patients that qualify.
Most abortion clinics will not turn patients away if they cannot pay for an abortion. If they are not able to provide financial support, the following national abortion funding networks can assist you. You just need to ask for abortion funding support.
NAF Hotline

The NAF Hotline Fund operates the largest national, toll-free, multi-lingual hotline for abortion referrals and financial assistance in the U.S. and Canada. They provide callers with accurate information, confidential consultation, options counseling, and referrals to providers of quality abortion care. They also provide case management services and limited financial assistance to help you afford the cost of your care and travel-related expenses. The Hotline is FREE and offers services to everyone, regardless of your individual situation.
NAF Hotline 1-800-772-9100 | NAF Referral Line 1-877-257-0012 | Hotline Hours

---
National Network of Abortion Funds
The National Network of Abortion Funds will connect you with organizations that can support your financial and logistical needs as you make arrangements for your abortion. They recommend that you do the following:
Find out if your insurance will cover having an abortion.
Make an appointment at an abortion clinic before searching for financial help
Figure out how much you can afford to pay on your own
Search their list of funds by state you live in or are currently visiting
Find out if you qualify for funding by reading about the abortion fund group
Contact all of the funds available to you in your area.
Search their list of National Abortion Funds by state.
---

Planned Parenthood
If you don't have the money to pay for your abortion, you can apply for financial assistance at Planned Parenthood health centers during your appointment. Unfortunately, their ability to provide financial assistance is limited. They do offer a variety of payment options to make your visit to Planned Parenthood more affordable.
Search their list of health centers or call them at 1-800-230-7526 and ask them specifically if they offer financial assistance or can help you seek some abortion support.
---
Provide
Provide is a nonprofit that partners with health and social service workers to build a healthcare system that's equipped to respond to unintended pregnancy and abortion.
Provide lists financial resources for abortion because the cost of abortion varies widely, as does insurance coverage of abortion, resources are available to help people pay for abortion care.
Search their list of financial resources for abortion.
---
Common Questions about Abortion Fees & Paying for Abortion
How Much Does an Abortion Cost?
ABORTION RELATED FEEDS & POSTS