ACOL Fact Sheets
Dear Colleague:
The internet has been a valuable tool for abortion clinics to educate the public since our website was first online in September of 1995, over 20 years ago. We created the first abortion clinic websites and Abortion Clinics Online (ACOL) was up and running before even Planned Parenthood and NAF had sites of their own. I personally was the first to introduce the abortion provider community to the power of the internet and it has been a proven success. Such a success that there have been a few lackluster imitators that have not demonstrated the commitment to abortion rights that our ACOL Team has.
Since 1976, I've worked with clinics, unapologetically and fully out in the open. My photo and number is prominently posted on our site. I'm not going to hide. I'm not ashamed. I'm PROUD of my association with abortion providers.
So, are you paying Google AdWords big bucks? If so, why then would you need to also be listed on Abortion Clinics Online? For one thing, an ACOL listing costs only $133/month. I am sure you are paying Google AdWords much more. Actually, an ACOL listing is more important now than ever before because Google Adwords is cluttered with your competition and fake pregnancy consultation centers. This drives up your cost per click and you're not even assured that the people clicking on your Google link are even looking for a clinic. (KA-CHING goes Google $$)
Back in the 90's, you had to be online with us because that was the best way to insure that patients could find you. Now, you need to be listed with us to make sure that prospective clients know that you are a real abortion clinic that provide quality care. The more times you pop up in their searches, the more likely they are to pick you out of the crowd and call you. Abortion Clinics Online is easy to find and organized, so it's easy for a prospective client to find YOU. Our affiliated company, Consultel.net, can help save you money on Google Adwords while integrating the Link Juice from ACOL into the mix. This can result in increased visibility for your site at a reduced cost.
We have just undergone a major renovation of our site at AbortionClinics.com (formerly GynPages.com) using the latest technology and optimization. Most of our competitors haven't upgraded their sites in over 15 years.  They are stuck in the 90's (just like that ugly mauve carpeting you used to have in the waiting room). And maybe you are not getting many referrals from the internet because your site is stuck in the 90's as well. Prospective patients want to see a professional site that reassures them that you will give them good emotional care and competent medical services. We can also help you with a new affordable website (or refurbish your current site) where you can even make your own minor changes.
The following ACOL Fact Sheets offer detailed information:
If you've been with us in the past and would like to reconnect, or if you've never listed with us, we'd be glad to talk with you about how we can help you attract more patients.
CALL US TODAY! — 800-4558130
If you just want to chat with me, please call me anytime on my personal cell phone (770) 330-0577.
Cordially,
Ann Rose
Founder & CEO
---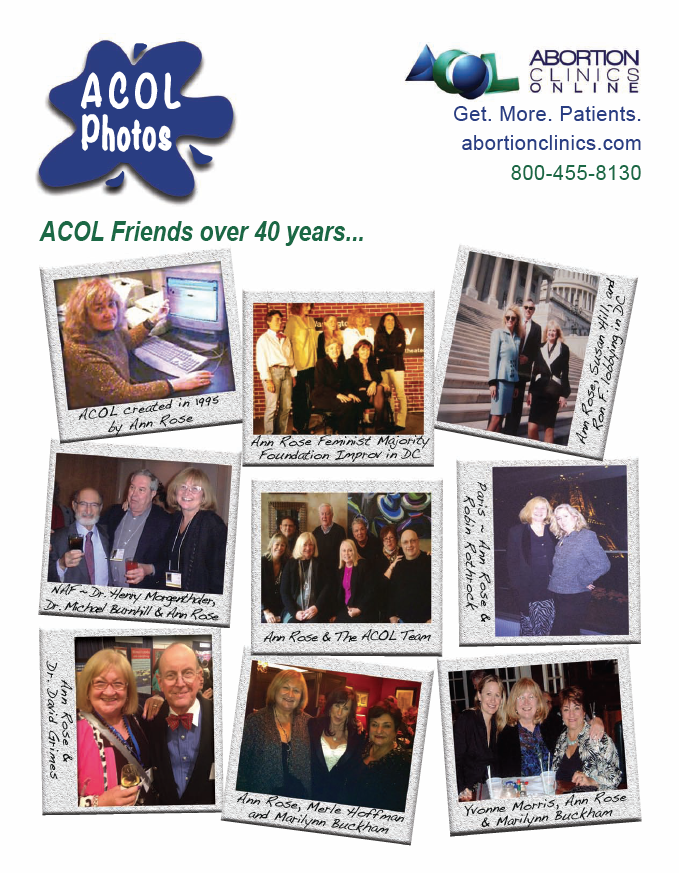 MORE INFORMATION:
FREQUENTLY ASKED QUESTIONS | INTERNET TERMINOLOGY 
WHAT PEOPLE SAY | DISPLAY ADS | How Will People Find My Business?
ABORTION RELATED FEEDS & POSTS