False Positive Pregnancy Test: Can it Happen?
A positive pregnancy test can be an unwelcome surprise, especially if you don't want to get pregnant. No medical test is perfect, and early pregnancy tests are notorious for giving incorrect results. So is it possible that your positive pregnancy test is actually a false positive. The truth is that false positive pregnancy tests are pretty rare. Here's what you need to know.
Pregnancy Tests 101: How They Work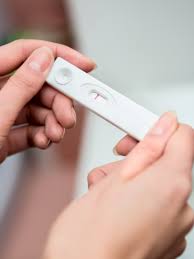 To understand why false positives are so rare, you need to understand how pregnancy tests work. Pregnancy tests measure for human chorionic gonadotropin (HCG), a hormone your body begins producing shortly after a pregnancy implants in the uterus. This means that a pregnancy test can be positive within a day or two of implantation–but never before, such as right after ovulation or fertilization.
To get a positive result, your body has to produce enough HCG from a pregnancy, and the test has to be sensitive enough to detect it. Early in pregnancy, false negatives are very common–exponentially more likely than false negatives–because many pregnancy tests are not sensitive enough to detect low levels of HCG.
Is it Possible to Get a False Positive Pregnancy Test?
A handful of rare medical conditions can cause a false positive pregnancy test. So too can certain fertility medications. But UTIs, yeast infections, sexually transmitted diseases, food, and other common issues won't cause a false positive. This is why, if you get a positive test, you're almost certainly pregnant.
Sometimes, taking a test incorrectly may affect the result, causing a faint positive line to appear. This is more common if:
You wait longer than 10 minutes to read the test result.
You use an expired pregnancy test.
You use a pregnancy test that uses blue dye, and do not immediately read the results.
Even then, however, a positive result is more likely actually positive than a sign of a false positive.
What if My Pregnancy Test is Positive and Then Negative?
It's possible to get a positive pregnancy test, then test a few days–or even a few hours–later and get a negative result. There are a couple potential culprits here:
You could have a chemical pregnancy. A chemical pregnancy is when you get a positive pregnancy test very early, but the pregnancy miscarries before a doctor confirms the pregnancy. You may notice bleeding within a day or two of the negative test. Chemical pregnancies are very common, and at least a quarter of early pregnancies end in miscarriage.
You might have used a different brand the second time. Especially early on, using a slightly less sensitive brand may produce a negative test. Test again in a day or two.
You might have used one or both tests incorrectly.
Wait a day or two, then test again, making sure to carefully follow the package instructions. If you're still uncertain about the results, your local Planned Parenthood offers free and low-cost pregnancy testing.
If you're pregnant and don't want to be, you have plenty of options. No matter what you choose, don't let a crisis pregnancy center sway your decision. These dangerous fake medical offices peddle misinformation and patient abuse. Contact an OB or a women's health clinic instead.
If you choose abortion or are considering it, we can help you choose a safe and compassionate abortion clinic.
ABORTION RELATED FEEDS & POSTS