Find abortion clinics in Baltimore.
Abortion clinics in Baltimore, Maryland offer Medical Abortion, Abortion Pill, RU486, Surgical Abortion, Late Abortion, and Gyn Services including birth control counseling.
If you're in Maryland and you're looking for a reputable abortion clinic near Baltimore, Camp Springs, College Park, Adelphi, Gaithersburg, Hagerstown, Owings Mills, Rockville, Rosedale and Germantown see below:
Hagerstown – Hagerstown Reproductive Services 301-733-2400/ 800-773-9140
OTHER STATE LISTINGS
Washington, District of Columbia – Washington Surgi-Clinic 202-659-9403/ 877-659-9403
Map Overview of Abortion Clinics in Baltimore area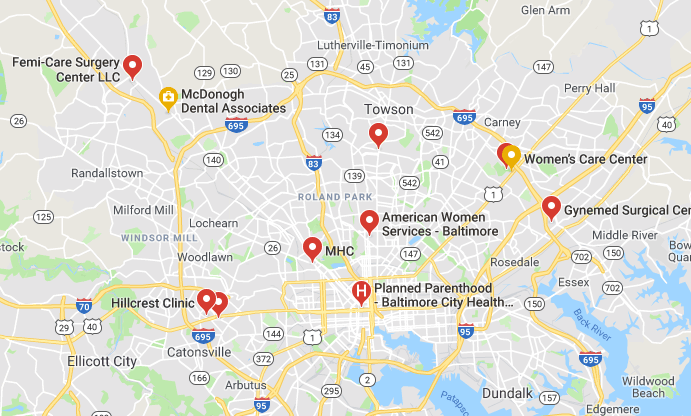 ---
ACOL is the 1st and LARGEST online directory for abortion clinics comprised of over 200 STATE LICENSED abortion clinics and abortion providers, including Planned Parenthood. Some of the abortion clinics on this directory offer private medical abortion ("Abortion Pill"), early and late abortion care.
Abortion Clinics Online (formerly Gynpages.com) has been online since 1995 and has had over 35 million visitors. Some of the MOST REPUTABLE abortion doctors, clinics, and centers in the country are listed here.
ABORTION RELATED FEEDS & POSTS