Spotlight: Alabama Women's Center for Reproductive Alternatives Huntsville AL
Alabama Women's Center for Reproductive Alternatives
256-536-2231/ 866-536-2231
4831 Sparkman Drive NW
Huntsville, Alabama 35810
http://www.alabamawomenscenter.com
Alabama Women's Center for Reproductive Alternatives provides the safest possible abortion care to women in a comfortable and confidential outpatient setting in Alabama.
Medical (non-surgical) abortions are offered to patients up to nine weeks of pregnancy.  Surgical abortions are offered to patients from five to twenty-one weeks gestational age (by last menstrual period).  We also offer contraceptive counseling, STD testing, preventative health maintenance and OBGYN services by referral. Patients receive quality medical care and sincere emotional support from a staff of experienced health care professionals.  At the Alabama Women's Center, patients are free to make their own choices about their bodies without judgment.
Scheduling an Appointment
The State of Alabama passed "The Women's Right Know" Act which requires women seeking an abortion to receive certain information compiled by the State at least 48 hours before completing their procedure.  You can receive this information by registered mail or in person. Please read through the Did You Know and the Alabama Resource Directory for Women, Children and Families.  If received by mail, these materials will be presented to you again in person when you come into our facility in order to be in compliance with the 48-hour waiting period.  Please note, if you completed your initial counseling at another clinic in Alabama, we may be able to accept that paperwork.  Once you have received these materials you may contact our office to schedule an appointment.
What You Can Expect & Need to Bring
Valid Picture ID (drivers license, military ID, passport, non-drivers ID).
Minors under the age of 18 need parent with I.D. and a certified copy of patient's birth certificate or judicial waiver.
Payment (cash, certified check, money order, credit card). Please note that credit cards will have a 7% surcharge added.
If receiving IV narcotics for pain control, a driver must be present and remain on premises during appointment.
Paperwork, counseling, lab work and ultrasound will be completed.
No children are allowed.
Limit your guest to a maximum of two people due to limited seating.
You may eat a light meal prior to your procedure. Nothing heavy or greasy eat light.
Please wear comfortable clothing and underwear.
Spotlight: Alabama Women's Center for Reproductive Alternatives –not listed with ACOL anymore.
Learn about real clinics versus fake abortion clinics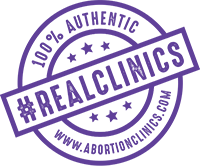 Learn about NAF